Next Trip: 31st May-7th June 2020
IBERHUNTING SPAIN S.L.U. Official Travel Agency no. C.I.MU.347.m
South Africa, officially the Republic of South Africa, is a sovereign country located at the southern tip of the African continent with an area of 1,233,404 km2 of which 2,954km are coasts bathed by the Indian and Atlantic oceans.
It extends from the Tropic of Capricorn to the
Cape of Agulhas
. It is bordered on the north by Namibia, Botswana and Zimbabwe, on the east by Mozambique and Swaziland, while Lesotho is an enclave surrounded by South African territory. Its territory is organized in 9 provinces: Western Cape Province, Eastern Cape Province, Northern Cape Province, Free State, KwaZulu-Natal, Northwest, Gauteng, Mpumalanga and Limpopo. South Africa has three capitals: Cape Town is its legislative capital, Pretoria is administrative capital and Bloemfontein is judicial capital.
The Eastern Cape Province was formed with the eastern part of the Cape Province and the former Bantustans of Transkei and Ciskei. Its capital is Bhisho that includes the old King Williams Town. Some major cities in the province are Aliwal North, East London, Port Elizabeth, Mthatha and Grahamstown.
Did you know that the oldest university in the country is in Grahamstown? In 2011, the population reached 6.56 million inhabitants, 87.6% being black, 7.4% mestizo, 4.7% white and 0.3% Asian. The province has two of the largest cities in the country, Port Elizabeth and East London.
Extending from the snowy peaks of the south of Drakensberg to the lush forests of Tsitsikamma and surrounded by the Indian Ocean, it is not surprising that the Eastern Cape, in South Africa, is described as a province of great contrasts.
Its natural diversity is unsurpassed: the Eastern Cape presents the seven ecological zones that exist in South Africa and the three biodiversity regions of the country, to which we must add its 820 kilometers of virgin and at the same time wild coast.
This advertises a picturesque variety of fauna and flora, which includes the Big Five of Africa, abundant birds, with hundreds of recognized species, and a wide marine fauna, which includes 27 species of whales and dolphins. The Eastern Cape is impregnated with an important historical and cultural past, with stories of the kings of Xhosa, first settlers, and abundant conflicts and border battles. As the birthplace of Nelson Mandela, the province is also known for the driving role it played in the struggle for African democracy.
Hunting and Season Climate
The hunting season in Africa takes place between the months of March to November.
Hunting in South Africa is excellent throughout the year. The time you decide to visit this place would depend on the temperature you enjoy. October through to March is the warmer period, and temperatures can easily reach and exceed 40 degrees Celsius. The period from April to September is cooler. During the middle of winter, minimum temperatures, even around freezing, can be expected in the early morning and in the evening.
Spring: September, October, November.
Summer: from December to February
Autumn: March, April, May.
Winter: from June to August.
Our destination airport is Port Elisabeth, in Eastern Cape Province; for this we will fly from Madrid, stopping in Johannesburg. The flight duration from Johannesburg to Port Elisabeth is approx. 1h40min and there are usually several daily flights that connect these cities.
When arriving at Port Elisabeth, and after collecting the luggage and the rifles, we will drive inland on a trip lasting two and a half hours. Arrival at our destination located in the quiet mountains of eastern South Africa.
We offer clients an incredible wildlife experience on over twenty thousand acres in unspoilt, malaria-free conditions. The Eastern Cape is one of the safest hunting destinations in South Africa, and we are proud to offer fair chase hunting for over thirty various species. We have wonderful concessions all over South Africa where we can take our clients for species not found in the Eastern Province area. From Africa's big five to our small five, we will make your hunting dreams a reality.

Our clients are of utmost importance to us. It is owing to this that we ensure attention to detail in all we do and provide in our programs. We are proud of the service our guests receive – always giving our best and going the extra mile for our clients.
Five star accommodation with all the comforts and amenities expected from a small, luxury hotel. We cater for individuals, families, as well as private and corporate groups, ensuring that all varying and specified needs are accounted for.
When the day ends and we return to the lodge after an exciting hunting day, it is time to light the fire and sit around to exchange experiences and enjoy a cold drink.
In the cosy bar area and outdoor boma section is where we unwind and make even more memories to treasure. It is here where we share our experiences and stories, celebrating the adventure and getting ready and excited for the days to come.
We know the importance of nourishment and refreshment – especially before and after a long day out in the field. We start and end our days together with delicious food prepared from scratch served with beverages to match. The diverse menu includes local game and fine wine, treating our customers to some classic South African dishes. Our clients are always well fed throughout the day with packed lunches to enjoy at their leisure.
The hunting area is about 125 miles (about 200 km) north of Port Elizabeth, in the Eastern Cape, near Somerset East. The terrain is mountainous and rocky, and the highest area of the region is about 1,800 meters above sea level.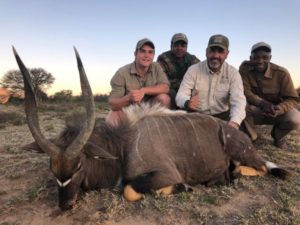 The property manages extensive concessions of land with great professionalism and hunting ethics guaranteeing the continuity of hunting, quality and quantity at the highest level.
This hunt takes place in private concessions that offer space of more than 120,000 acres (approximately 50,000 has) which gives enough options to get adult trophies during the hunt.
Hunters can use a bow or rifle. It is always the customer's choice, but you can be sure that the hunting experience will be memorable.
Hunting in South Africa is excellent throughout the year. From October to March is the warmest period, and temperatures can easily reach and exceed 40º. The period from April to September is colder. During the middle of winter, the minimum temperatures drop even at 0º in the morning and at night. Buffelsfontein, directly translated to Buffalo Spring, is an addition to our offering. It compromises of over 7000 acres of land, a beautiful waterfall and plenty of nyala.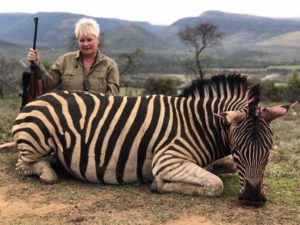 Our clients have the opportunity of a fair chase hunt for buffalo and sable on this property too. The areas' natural vegetation is well suited habitat for Impala, Springbuck, Blesbuck, Zebra, Bushbuck, Duiker, Steenbuck, Kudu, Eland, Buffalo, Sable and most particularly Nyala – in fact it's Nyala paradise.
We truly believe that hunting is one of the best conservation tools in the world. We thank our clients for hunting with us and thereby investing in the future and overall longevity of our wonderful wildlife.
Package Programs in Eastern Cape
5 hunting days, 3 trophies,– 1×1
INCLUDING 1 Blue or Black Wildebeest  / 1 Blesbuck / 1 Springbuck common
7 DAYS, 6 hunting days + 1 sunday – 5 trophies    – 1×1
Including: 
2 Trophies to choose: Kudu, Gemsbuck, Red Hartebeest, Blue Wildebeest, Black Wildebeest
ALSO INCLUDED  1 Impala or Mountain reedbuck, 1  Springbuck common, 1 Blesbuck
9 DAYS,  8 hunting days + 1 sunday – 7 trophies– 1×1
3 Trophies to choose: Kudu, Gemsbuck, Red Hartebeest, Blue Wildebeest, Black Wildebeest
ALSO INCLUDED  1 White Springbuck or Black Springbuck, 1 Impala or Mountain Reedbuck,
1 Springbuck common and 1 Blesbuck
** We Can Also Organise Hunting Package According To Your Wishes
The Package Include:

* Transfer from/to Port Elisabeth airport.
* Arrival and departure days are not hunting days.
* Accommodation, meals, drinks and every second day laundry service.
* Services of a Professional hunter, tracker and skinner.
* Hunting vehicle.
* Field preparation for all the trophies hunted.
The Package Do Not Include:
* Flight Tickets and Travel insurance.
* Tips for the guide and staff.
*Taxidermy and shipment cost of the trophies to your home.
*Cites, export documents and veterinarian certificates.
* Non-hunter companion
WE DO NOT HUNT ON SUNDAYS. ON SUNDAYS WE WILL TAKE YOU TO ADDO ELEPHANT PARK OR YOU CAN RELAX AND HAVE A BARBEQUE IN THE LODGE.
Documentation Necessary To Hunt In Africa:
You can access to South Africa with the valid passport.

It is NOT mandatory to vaccinate against anything in particular.

If you bring your weapon, remember that it cannot be semi-automatic.
Hunting in Africa is always the best option
Addo Elephant Park, which has the densest population of elephant in the world, has played a vital role in conserving the African elephant in the Cape, allowing their population to multiply from 11 in 1931 to numbers fast approaching 300 today.  Addo is also home to a variety of other animals – from black rhino and buffalo to the unique flightless dung beetle.
Elephant Back Safaris (Daytrip entry fees NOT included, in region of USD 220-250 per person)
Departing from our new Day Centre, we offer you the exhilarating experience of riding these magnificent animals. Revel in the natural beauty of the environs and its wildlife from your lofty seat as these gentle giants amble through the African bush.  After the ride, walk with them through the diverse valley bushveld, ravine and forest habitat. At the conclusion of the walk enjoy rewarding the elephants with their favorite treats. This safari takes place in one of the six sections of the Addo Elephant National Park. The duration is approximately 3 hours.
Mountain Zebra National Park
The Mountain Zebra National Park was proclaimed in 1937 to save the mountain zebra from certain extinction.  Presently over 200 mountain zebra are protected in the 6 536 hectares of this park. Excess animals have been relocated to other national parks and nature reserves.  The Park offers protection to the full spectrum of wildlife originally found in the eastern Karoo. Cape Mountain Zebra, Eland, Black Wildebeest, Red Hartebeest, Kudu, Blesbok, Klipspringer, Springbok, Mountain Reedbuck, Duiker, Grey Rhebok, Steenbok and Cape 
Buffalo may be sighted.  The park is home to the caracal and many smaller predators and is a birdwatcher's paradise.  Over 200 species of birds, including the magnificent black eagle, have been recorded. Another interesting inhabitant of the park is the giant earthworm.  The park consists of beautiful plains, mountain landscapes with Karoo vegetation and wooded valleys. 
Graff-Reinet - A Charming Town
Established in 1786, Graaff-Reinet  was named after Governor van der Graaff and his wife Reinet and was the fourth district in the Cape Colony to be granted a Drostdy or seat of local government.  Being the outpost of white civilisation in a barren and untamed country, it became the most important trading centre with the interior by the middle of the last century.  Picturesquely situated among the foothills of the Sneeuberg mountain range, Graaff-Reinet has retained much of the character of a typical 19th century rural town. The old town tucked into the horseshoe bend of the Sundays River contains more proclaimed national monuments than any other town in South Africa.
Grahamstown - A Busy Commercial, Cultural and Educational Centre...
The city of Grahamstown is situated in a temperate valley between the coastal plain and the hinterland of the Eastern Cape.  Grahamstown unique atmosphere is a result of its long and varied history. Founded in 1812 as a military outpost, it began to grow and thrive in the 1820's as struggling Settler families left their farms to establish themselves in more secure trades.  The city's broad tree-lined streets and imposing public buildings are the legacy of a time when Grahamstown was the Cape's second city: it became the seat of a bishopric in 1852 and in 1864 the site of the only session of the Cape Parliament to be held outside Cape Town.
Grahamstonians are characteristically proud of their city's historical heritage, a pride which is evident in the care taken to preserve and enhance the many historic buildings which endure to this day. 
Port Elizabeth Oceanarium, Museum & Shopping Galore
The Museum has interesting displays of natural history, Cape Nguni Beadwork, shipwreck displays, relics of bygone days, the wonders of nature and the life of early man.
Enjoy an entertaining, yet educational experience with Port Elizabeth's famed Indian Ocean Bottlenose Dolphins and Cape Fur Seals at the Oceanarium.
Hunting in Africa is always the best option
Want to see more of our next hunting trips?