Pakistan is a large country with a lot of contrasts. Its landscape ranges from high mountains in the north, Karakoram and Himalayas, through dissected plateaus to the rich alluvial plains of the Punjab. Then follows the desolation of Balochistan and the warm, dry deserts of Sindh that blend in miles and miles of golden beaches off the coast of Mekran. The country borders Iran to the west, India to the east, Afghanistan to the northwest, China to the north and the Arabian Sea to the south. 
This land of geographical splendors has some of the rarest sheeps and goat species in the world; here live three different species of Markhor (Kashmir Markhor, Astor Markhor, Suleiman Markhor), three separate types of Urial (Punjab Urial, Blandford Urial and Afghan Urial) as well as two subspecies of Ibex (Himalayan and Sindh Ibex) and Blue Sheep. 
This country of geographical splendour and fantastic wildlife is appreciated by a number of trophy hunters. From the north of the country and its sky-high mountains for living the experience to hunt the Himalayan Ibex, Blue Sheep and Markhors, to the rolling hills for the Punjab or the arid hills of the south place of the Sindh Ibex and Blandford Urial.
Pakistan is a really fascinated country for incredible hunting experiences.
ASTOR MARKHOR (Capra falconeri falconeri)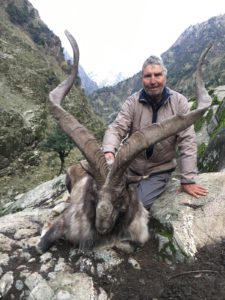 Astor Markhor is a subspecie of Markhor variety of wild goat which is characterized by its horns which are large, flat and branching out very widely and then going up nearly straight with only a half turn. In comparison with the Kashmir, their horns curves are wider. This goat's shoulder height is as much as 106 cm (42 inches) and weighs about 90 – 200 kg (200-225 pounds). The coat is long and coarse in winter, though with very little under wool, and is much shorter in summer. 
The habitat of these animals is in the Gilgit, Skardu and Astor regions of Northern Pakistan in the valleys which branch off from the River Indus. It is possible to hunt the Himalayan Ibex and the Markhor. 
A good physical condition is required to have a good hunt and to obtain a respectable size trophy. 
Hunting area: zones of the north (regions of Gilgit, Skardu and Astor). Altitude: 3.000 – 3.500 meters (10.000 – 11.000 ft).
Hunting season: From 1st October to 30th April. Best time for hunting is December and January during rut. 
During December and January the weather may be around 2ºC to 5ºC (35 to 4ºF) on a sunny day. If the weather is windy then it may go down below 0ºC (32 F). 
The accommodation in Pakistan depend on the species that you will hunt and the hunting region. 
They can range from the magnificent guest houses and the best hotels to the comfortable camps and the simple shepherd's huts or even caves. 
During this hunt we will stay in hunting camps; mostly are shepherds huts and high altitude tents for clients. 
Day 1: Arrival to Islamabad Airport. 
After meeting at international arrivals we shall have our domestic flight to Gilgit. It's an 1-hour flight to Gilgit. Once we arrive to Gilgit we continue to the camp. 
Day 2-6: HUNTING DAYS 
Day 7: Return to village and continue to Gilgit. Overnight. 
Day 8: Flight Gilgit – Islamabad. Overnight in Islamabad if necessary before you flight back home. 
Day 9: Departure day. Flight from Islamabad to your home.