Next Trip: 4th-9th March 2021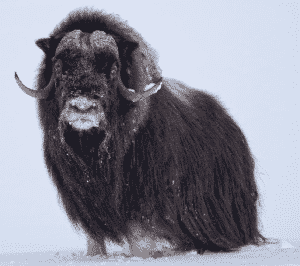 The Muskox will impress you with its long-haired skin and with its pointed horns up, being an impressive trophy. Muskox usually live in herds. Adults will have a normal-sized weight of up to 400 kg. The herd will usually be run by an old female. In case of danger on the part of the wolves, the herd will form a ring with younger individuals inside the ring and the old males provide shelter.
As in nature, Muskox can be threatened by wolves, only this defense strategy works very well. The Muskox, who do not have much experience with human beings, will use this strategy also when we get closer. However, in areas where Muskox is hunted, they have often experienced that their natural defense strategy is not the best and will try to escape. Therefore, when stalking them, you have to be cautious and go quietly in search of the Lance, hide as much as one can. However, in most cases it will be possible to reach a firing distance of 60 to 80 meters.
We are hunting in western
Greenland
, approx. 1 ½ hour drive out of
Kangerlussuaq
. This area is considered to be one of the best grounds for hunting Muskox in Greenland and the outfitters enjoy a flat 100% success rate over the years. Your hunt will be carried out in a very niece hunting area with wide valleys, hills and smaller mountains. The total population of Muskox in this area is considered to be about 5.000 individuals and due to very good living con-ditions not only density of game, but as well structure of age and size of trophy is the best from all over Greenland. Scientists stated that average life size weight of Muskox in Kangerlussuaq area is about 15% higher than of the Muskox of population in eastern Greenland.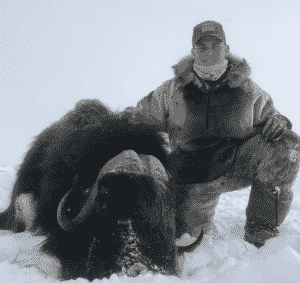 The most suitable calibers are 338Win. Mag, 7mm, 300 Win. Mag., 8 x 68 and similar. You can bring your own rifle but, as the formalities for importing weapons at Copenhagen Airport consume a lot of time, your trip can be much easier and more relaxed if you use a rented rifle from the shipowner who will be a Remington in Cal. 338 or similar , equipped with range. During the past year, most of our clients hunted with rented rifles. This makes your trip much more comfortable as the check-in and check-out of the rifles at Copenhagen airport is quite complicated.
Greenland is the largest and sparsely populated island. Only approx. 20% of the land is not covered with permanent ice, mainly along the coastline. Therefore, the Muskox will be found mainly along the coastline.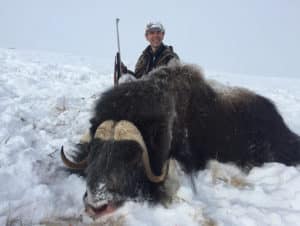 We are hunting in West Greenland, about 1 hour and a half drive from Kangerlussuaq. This area is considered one of the best for hunting Muskox in Greenland and equipment suppliers enjoy a full success rate of 100% over the years. Their hunting will take place in a hunting area with large valleys, hills and small mountains. The total population of Muskox in this area is considered of approximately 5,000 individuals and due to the very good living conditions, and also the structure of age and size of the trophy is the best of all Greenland. The scientists stated that the average weight of Muskox in the Kangerlussuaq area is about 15% higher than the Muskox in eastern Greenland.
In the last years, the Muskox came to have more experience with the hunters, which results in that the hunting has a sportier character, what each real hunter enjoys. Especially the noise of the dogs that are used to pull the traditional sleigh can scare the hunt at a greater distance. Transport within the area is therefore carried out with eight-wheel or quad-vehicle vehicles. This has proven to be more efficient than using dog-drawn sleds. Eight-wheel and quad-bike vehicles are used only for transport in the area and to detect the game. Once a group of Muskox is detected, the stalking begins.
The stalking distances will not be more than a couple of hundred meters to about 1 or 1 ½ km. As the oxen are found mainly in the valleys, the stalking is not really physically demanding and, in addition, the slightly older hunters will do very well without problems. The people who accompany us to the hunt are welcome and can participate in the stalking. Sometimes the Muskox will be seen even from the camp, in this case you can start your stalking from the camp. Once you are shot away you will have enough time to choose a good trophy and get a stable support for your weapon. You can be sure that in the area of our adventure during 2 days of hunting you will find better opportunities to obtain the trophy you have dreamed of.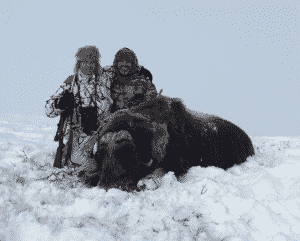 Once the Muskox is fired, the trophy is cleaned and prepared with salt.
Important
, instruct your guide already at the beginning of the hunt if you want a layer for a chest mount or a full skin for a life-size mount.
If necessary, you can also hunt the Muskox in the most traditional way using the sled pulled by the dog, but it will at your own risk.
Once you have shot the Muskox and weather permitting, you can also hunt the snow partridge and/or The Snow hare. If you're interested in this, bring a shotgun and ammo. In most cases, time can even make a trip to the so-called ice cap, which is a huge glacier inside the hunting area.
With regard to the personal treatment, our partner takes maximum 4 hunters guided 2/1. The guides grew up in Greenland and have a lot of experience in hunting Muskox. You can trust your professional hunter and your guides without any doubt and all involved will do everything possible to have a very good hunting and enjoy the maximum of your passion.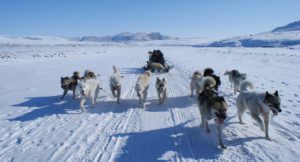 Fly from your country of residence to Copenhagen (Denmark). From Copenhagen, you fly with a non-stop flight with Air Greenland to Kangerlussuaq.
As the flight leaves Copenhagen in the morning and arrives in Copenhagen at night, in most cases it is necessary to spend the night in Copenhagen on arrival and departure. The hotel can be booked by you or by our company.
When you arrive at Kangerlussuaq, which is usually around 10.00 a.m., you will be transferred immediately to the hunting house. In the afternoon you'll be on your first hunt.
The accommodation will be provided in a hunting house that was built two years ago. The house has a living room and 4 rooms with two beds. The accompanying people are welcome, but they must share the room with the hunter. All rooms are equipped with folding beds, you must bring your own sleeping bag, or you can rent pillows and quilts from the shop. There's a satellite phone in the camp that can be used for emergencies. If you want to have connection with your home, you must bring your own satellite phone.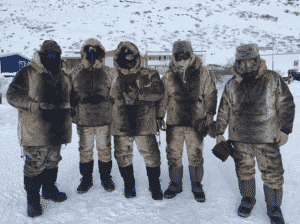 In March, daylight begins around 06.00 in the morning and will darken at 19.00. Normally, hunters get up in the morning around 07.00 a.m. After breakfast you will go hunting. You'll be out all day. During the day, you can have coffee or hot tea and some snacks. If you want to eat more, please be prepared to prepare some sandwiches during breakfast and take them with you. At night, you will be served an abundant dinner.
In March, temperatures during the day can be-15°c to-25°, sometimes can be a little colder. From April begins to be a little "softer" with approximately -10°c to-15°c. It is necessary to wear very warm clothes, because during the driving is not made many movements and you can be very icy due to the wind. Bring clothes to dress in layers, that is, warm underwear, sheltered trousers and other hot, wind-resistant trousers. As your free luggage is usually limited to 20 kg and excess baggage costs are quite high.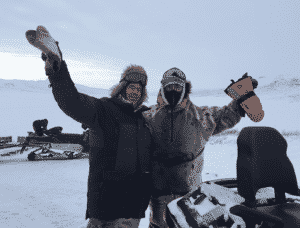 We recommend renting from the outfitter the functional leather clothing made of seal and/or caribou. You can rent boots, pants and jacket. This has proven to be the best hunting outfit in the high north and at the top you don't bring too much luggage with you.
The cost of renting boots, trousers and jackets will be €210,-for all the hunting. If you only want to rent boots, the costs will be €60,-
Hunters who measure more than 190 cm or who are overweight should buy rented boots and clothing in advance.
2º Muskox
: It is possible to shoot a second Muskox the customers who want it tend to reap the second Muxkox with ease. Please note that the license for the second Muskox must be purchased before the hunt. Therefore, report with reservation if you are interested in looking for a second Muskox.
1st Day: Depart from your home for Copenhagen and stay over nigh in Copenhagen.
2nd Day: Depart from Copenhagen for Kangerlussuaq with Air Greenland flight GL 781 at 09.15. This is an approx. 4,5 hours flight. Arrive in Kangerlussuaq due to time differ-ence at 09.55. Transfer to the hunting area. First hunting in the afternoon.
3rd Day: Hunt.
4th Day: Hunt.
5th Day: Transfer to Kangerlussuaq and depart for Copenhagen at 13.10 with GL 782. Arrive in Copenhagen at 21.30. Stay overnight in Copenhagen.
6th Day: Depart from Copenhagen to your home aiport.
This itinerary is based on current flight schedule of Air Greenland.
 Flights from your home to Copenhagen/return can be booked alone or with our company. In case you book yourself, please. Tell your reservation agent if you want to bring your own rifle. Flights Copenhagen-Kangerlussuaq-Copenhagen will be booked by our partners in Greenland.
Hotels in Copenhagen can be booked by you or with our company.
You can bring your own rifle with you. To do this, you must have the European firearm passport and the rifle you wish to bring must be registered in the European Firearms passport.
In addition, it also needs an arms import and export license for Greenland; This will be organized by us.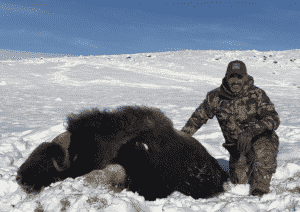 You can't take trophies with you at the time of departure, trophies will be sent to you within 3 to 4 months after the hunt. You can order trophies to be sent directly to your home, but in this case you must take care of all import procedures. If you ask for it, which is much easier for you, we take care of all shipments of trophies. In this case, your trophies will be sent after the hunt and we will take care of all the EU import procedures.
Want to see more of our next hunting trips?