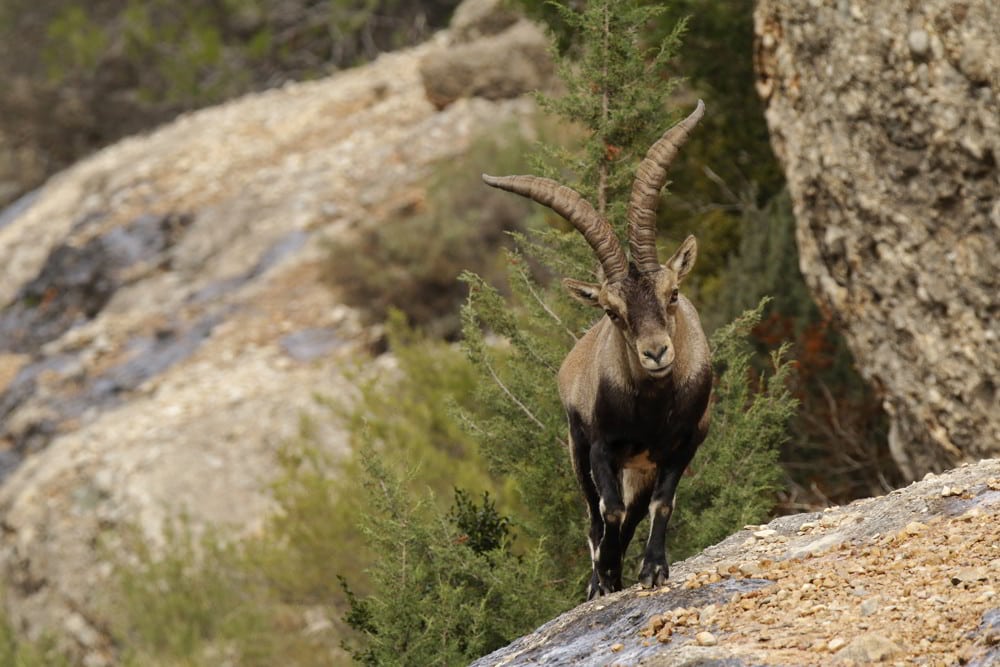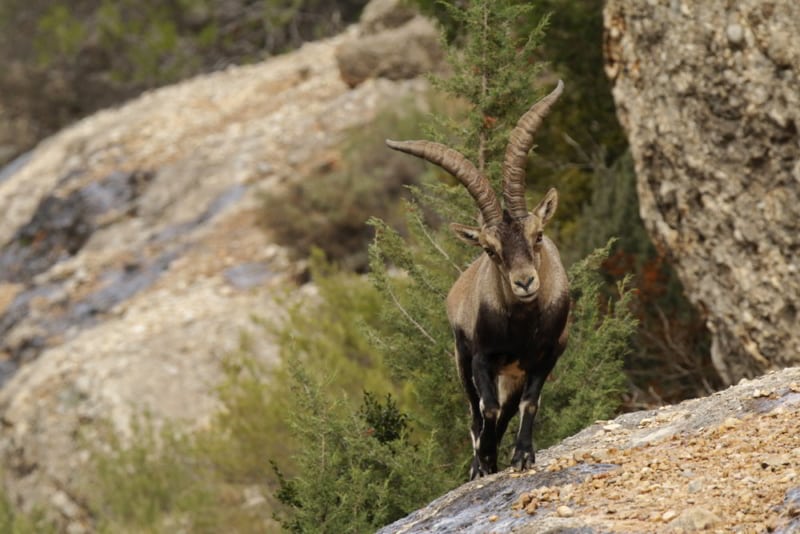 Beceite Ibex is the sub-specie of the most widely distributed wild goat on the Iberian Peninsula. One of the largest colonies of Spanish goats can be found in the Puertos de Tortosa-Beceite region.
Los Puertos de Beceite is a mountainous massif located between the provinces of Tarragona (Catalonia), Teruel (Aragón), and Castellón (Valencia) where the Catalan Pre-Coastal Range and the Iberian System meet. The region is characterized by the vegetation of pine (black pine and red pine), oak, and holm-oak as well as a beech forest (declared a partial nature reserve).
Beceite ibex males have large and ringed horns that expand laterally like airplane wings, a characteristic that distinguishes this species from ibex found in other areas of the country. They can weigh up to 110 kilograms and measure 80 centimeters in height and five feet in length. Males are characterized by a goatee below their chin.
Your hunting trip will start with your arrival at Alicante or Valencia airport, where Iberhunting staff will meet you. He will accompany you during all your trip and will care for your hunting success. After the clearance documents for bringing your rifle, you will be transferred to the hotel close to the hunting area and have dinner in this place.
Thanks to its geographic location near the Mediterranean, this community is a place of amazing contrasting landscapes reflected in the local cuisine, where you'll find both traditional flavors and culinary innovations of exceptional quality.
A hunting program to enjoy from beginning to end
Valencian cuisine is characterized by a wealth of recipes that are as healthy as they are delicious. The secret lies in the natural ingredients from the sea and the garden: the oils, vegetables, spices, fruits, meat, and fresh fish dishes that make up the "Mediterranean Diet." We encourage the hunters to share this experience with their family or friends. We organize interesting "Sightseeing" programs for the non-hunters companions in the different hunting areas, and in this area, our "Paella Cooking Class" is the most requested activity.
This hunt, just like another stalking of these species, begins in the early hours of the morning after a good breakfast. It is a mountain hunt in which the hunter and guides search, with the aid of binoculars and monoculars, for a suitable trophy according to the clients' demands. The stalking should then be carried out in complete silence, with attention being paid to the recommendations of the guide. Even if it is a mountain hunt, as all our mountain hunts in Spain, we can adapt it to the physical conditions of the hunters.
More info about hunting Beceite ibex
Airport: Alicante or Valencia Airport

Hunting Season: Oct 15-May 31
Last Videos of Beceite Ibex hunt 
Do you need more info?
Feel free to call or ask us by email.