This special program for stalking in the mountain the Spanish Redstag will bring you to the Sierra de los Filabres in the province of Almería (Andalusia). In this incredible mountains we can find two of the most representative Spanish species: the Sierra Nevada (Southeastern Ibex) and the Spanish Redstag.
We hunt the redstag by stalking in high mountains in the south of Spain, province of Almería.
To hunt this animal by stalking method in the mountain is one of the best hunting opportunities.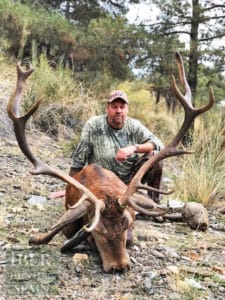 The hunting season for the Spanish Mountain Redstag is from middle September to middle February. The rut time is from middle September.
Your hunting trip will start with your arrival to the airport. The closest airport to the hunting area is Almería. But if you don't find any flight to this airport, you can fly also to Murcia (San Javier) airport or to Alicante. The last one is about 2.30h from the hunting area, but it is an international airport and for sure that it will be easier to get flights there.
At your arrival to the airport we will meet you and will accompany you during all your trip and will care for your hunt. After the clearance documents for bringing your riffle, you will be transfer to the hotel. It is also possible to rent a rifle by us.
This hunt, just like other stalking of this species, begins in the early hours of the morning. It is a mountain hunt in which the hunter and guides search, with the aid of binoculars and monocular for a suitable trophy according to the clients demands. The stalking should then be carried out in complete silence, with attention being paid to the recommendations of the guide, who will demonstrate his knowledge and know-how in the terrain. This is a species with a very sharp sense of smell, sigh and hearing, an adversary which will contribute to the hunt, together with the incomparable landscape common to the area, the necessary ingredients to make the day an unforgettable hunting experience.
Shooting distances may be in the range of 150 – 250 meters.
Recommended calibers are 300 WM, 338 WM and 270 Weatherby. In most cases you will have time to get confortable rest shooting, but sometimes you must be able to manage quicker shots.
Hotel Las Fuentes is a charming and confortable hotel situated in the heart of the countryside. It will host you during your stay. The perfect place to enjoy a wonderful scenary. Excellent service and the highest quality.
The Romans taught Andalusia how to cultivate wheat and vines and used the fish from the seas to produce the best "garum" in the empire.
The Arabs taught the people of Andalusia to grow fruit and vegetables. They used irrigation systems and perfected the cultivation of the olive and the production of the oil.
Furthermore, the Greeks, Phoenicians, Carthaginians and Visigoths left their mark on the art, science, culture and gastronomy of Andalusia. This is a quite a legacy and the best way to get to know it better is to sit down to the table
A Mediterranean based gastronomy which is unique due to the extremely high quality of its ingredients from the sea or vegetable garden, and because  of the use of extra virgin olive oil, an indispensable element which gives personality and distinction to these dishes, and it is present in the quintessential Andalusian dish: "Gazpacho"