The Cantabrian Chamois is the smallest of the subspecies of rupricae, and the mountain chains of the north of Spain it is the only place where it is possible to hunt it. With colors and customs very similar to the Pyrenean Chamois, the size of this trophy is considerably smaller than this one of his pyrenean brother.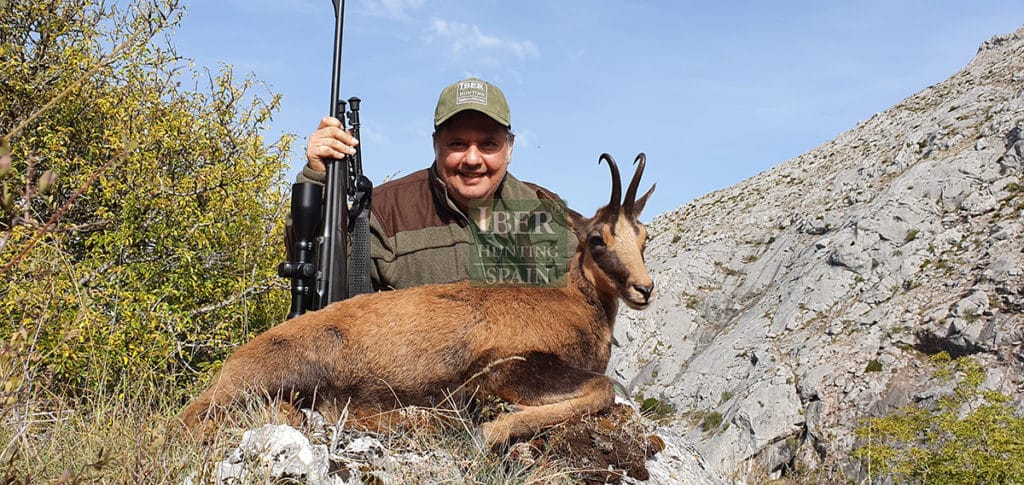 We can find this specie in the Cordillera Cantábrica, a mountainous range situated on the north Spain, between the provinces of León, Asturias, Cantabria and Lugo.
Hunt of high mountain, surrounded with incomparable landscapes and with a fauna impossible to find in any other Europa's side: Spanish ibex, roe-deer, deer, wolves and bears share habitat with the Cantabrian chamois.
From the 1st may to middle November month is the hunting season for the Cantabrian Chamois.
In August, the hunt is closed.
Rut time is middle October.
Small hotels in the mountains or lovely rural homes close to the hunting areas for your accommodation during this hunting program.
In the cantabrian chamois, a province with great gastronomic tradition and a great wealth of plates different from mountain, the hunter will be able to enjoy different local dishes.
Terms for Booking & Cancellation
To confirm your booking we require as deposit 50% of the cost of the hunt. The rest of the payment 60 days before the hunting date.
The measure of the trophies will be done "en verde" (in green) in the field by the rangers.
For the management of your Spanish license and insurance, we will need to receive copy of your hunting license and identity card or passport.
In case of cancellation with more than 180 days before the hunting date, the deposit will be refunded less 350,00 euros as administration fees. In case of cancellation less than 180 before the hunting date, the total deposit is forfeited.
Injured animals which can't be found are considered to be shot and must be paid by the customer.
PROGRAM SUMMARY
Program based on: 2 hunting days & 3 Nights
Airport: Madrid Airport
Hunting Season: From 1st may to middle november
Best Hunting Period: Rut Time (from middle oct.)
Hunting Method: Mountain Stalking Hunt
Recomm. Calibers: 300 WM, 338 WM, 270 Weath, 8×68, 300 Weath.
Shooting Distance: 150 – 300 meters or  165 – 325 yards
Shorter or longer shots also depending on the skill of the hunters.
Difficulty: We hunt in vast zones where the density and quality of trophies allows the hunt to be adapted to each person's physical condition.
Combination: This program is possible to combinate with any other specie. But for proximity with mouflon, redstag, fallowdeer, or Gredos Ibex could be the best combination.