Natural Reserve of Cazorla
"A Hunting Paradise"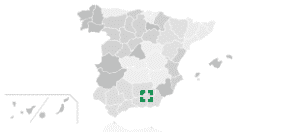 This special program for groups will allow you to live the incredible experience to hunt in the south Spain.
The stalking hunting area is located in the National Park of La Sierra de Cazorla (Jaén). This is the Spain's largest protected area covering 209.920 hectares land. Very famous for its hunting tradition, in 1.960 it was designated Cazorla-Segura National Hunting Reserve. In these mountains you can find a variety of species as redstag, mouflon, fallowdeer, southeastern ibex (Sierra Nevada ibex) and wildboar.
Description of the Hunt
This is a great hunting experience that starts with the arrival of the hunters to the international airport of Málaga. After collecting the weapons, also possible to rent riffle by us, we will drive to the hotel PARADOR DE CAZORLA, about 2h30min form the airport.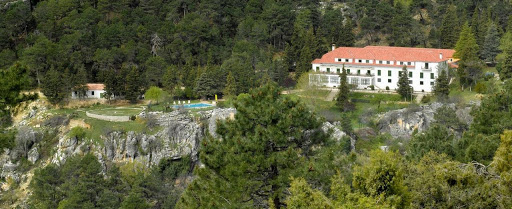 The Hotel Parador de Cazorla is located in the heart of the Sierra de Cazorla Nature Reserve, in an area known as Sacejo, offering an oasis of peace in a natural setting. The altitude provides matchless panoramic views of mountain slopes covered in pine trees. Only the sound of the birds will interrupt your relaxation beside the hotel pool or strolls through the surrounding area. The hotel revisits the tradition of classic Andalusian country houses, which is abundantly clear from the exterior. The swimming pool with spectacular views of the nature reserve, and the light-filled interior, with a lounge where you can enjoy pleasant afternoon chats beside the fireplace, make the Parador an inviting spot.

Hunting Programs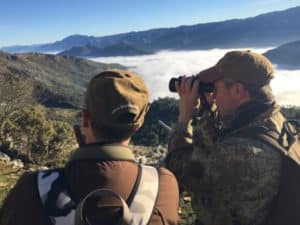 We have different programs for groups from 4 hunters with very low prices from 1.495,00.-€; you can choose a program or to tell us your preferences and we will make a special proposal for you:
Female package program.
Mouflon & Female.
Fallowdeer & Female.
Combo pack with Mouflon – Fallow & Females
Sierra Nevada Ibex
Special pack: Sierra Nevada Ibex – Mouflon – Fallow – Females
The programs include 2 hunting days – 3 nights fullboard accommodation – transfer from/to Málaga airport – hunting license and insurance – transport during the hunt – hunting guide – trophy fees.
*It is possible to include extra hunting days to the program.
The Hunt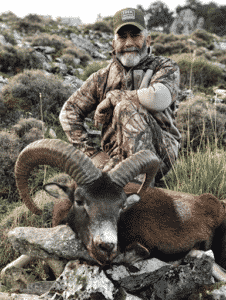 This hunt begins in the early hours of the morning. It is a mountain hunt in which the hunter and guides search, with the aid of binoculars and monocular for a suitable to the recommendations of the guide, who will demonstrate his knowledge and know-how in the terrain.
In this National Park you will live amazing trophy according to the clients demands. The stalking should then be carried out in complete silence, with attention being paid
hunting days watching all kind of animals like red-deer, fallow-deer, mouflon, wildboar, ibex.
All hunters who was in this hunting area are still dreaming of this hunt rich on all kind of animals during all day.
Shooting distances may be in the range of 150 – 250 meters. Recommended calibres for this hunt are 300 WM, 338 WM and 270 Watherby. In most cases you will have time to get a confortable rest for shooting, but sometimes you must be able to manage quicker shots.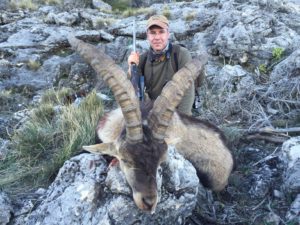 In good weather conditions, all our groups get to complete this quota even to shoot some more animals. We remember you that this Natural Park is plenty of different game which makes this trip a really unforgettable experience. A lot of our customers repeat every year with group of friends for hunting in this area where it is posible to organise personalized hunting programs with different quota of game. Also for bowhunters, this is a great program and everybody have amazing experience hunting in this place.
The Natural Park is very big so we can receive groups from four to ten hunters. Groups with 6 hunters can be guided 1×1. From 6 hunters to 10 hunters, they can be guided 2×1.

Terms for Booking and Cancellation
Hunting in the Natural Parks is based in a strict licence system. In the Natural Park of Cazorla we need to buy licences for your hunt prior your arrival for all kind of animals. This is very important to know because if you do your quota of game and want to shoot some extra animal, only in case you have order in your booking the license is possible to hunt it.
To confirm your booking we require a deposit of 50% of the cost for the hunt. The remaining balance to the full cost of your hunt has to be paid not later than 60 days before the hunting date.
Any reservation made less than sixty days before de hunting date will be confirmed by the full payment of the hunt.
The measure of the trophies will be done "en verde" (in green) in the field by the rangers of the Natural Park.
For the management of your Spanish licence and insurance, we will need to receive copy of your hunting licence and identity card or passport.
In case of cancellation with more than 180 days before the hunting date, the deposit will be refunded less 10% and five hundred euros as administration fees. In case of cancellation between 180 and 61 days before the hunting date, the total deposit is forfeited. In case of cancellation of 60 or less days before the hunting date, all booked services must be paid.
Injured animals which can't be found are considered to be shot and must be paid by the customer.
More Info of the Area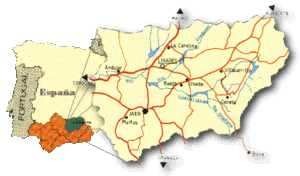 The varied geography of the province of Jaén offers the beauty of its natural landscapes and the architecture and monuments in its villages and cities which keep alive the memory of a past of great splendour.
Large expanses of gentle landscapes with olive groves stretching to the horizon. And among the olives and the lush vegetation of its nature reserves you will find outstanding examples of Iberian art, churches, cathedrals, palaces and castles built in the Gothic, Renaissance or Baroque style. Jaén is a land of excellent olive oil, and offers a dreamlike landscape for anyone passing through the Despeñaperros ravine which leads to the south.
What to do?
Cazorla is a little secret in the province of Jaén. It is a large natural area with woods, valleys, gorges and streams, nature in its full splendor.
The Guadalquivir River is born in these mountains and flows for hundreds of miles to join up with the Atlantic Ocean in Cádiz province.
In addition to practicing any sport you like, you can also take guided tours to discover the rich local flora and fauna, and learn about the geology, ecology, the art and customs of the area.
Many companies in the area can offer you an incredible adventure in Cazorla: canoeing, climbing, rappelling, mountain biking, hiking, paintball, horse riding,….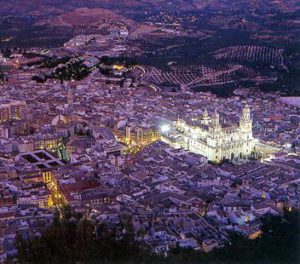 And if you prefer by yourself, in Cazorla has a wide market trails for long walks where to enjoy the beauty of its landscape
Jaén is situated 1h40min. from the Hotel Parador de Cazorla. It is the capital of the province, a big city where to spend a nice day of shopping and culture.
One of the main attractions is its architectural heritage. Jaén has a cultural heritage passed down through the centuries by the numerous civilizations that have settled in these lands: Iberians, Tartessians, Greeks, Phoenicians, Romans and Arabs. Among the rich architectural heritage of Jaén, special mention should be made of the cathedral, built by Andrés de Vandelvira in Renaissance style, as well as the Moorish bath
Úbeda and Baeza, "A World Heritage Journey"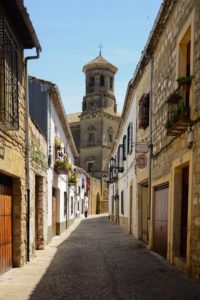 Úbeda is situated 1h23min. from the Hotel Parador de Cazorla and Baeza 1h16min., and from one city to the other one there is 32min.
Two emblematic cities in the province of Jaén, separated from each other by just under 10 kilometres, but together representing a journey back in time through two of the most historic cities in Andalusia that is certain to amaze. Two World Heritage cities that are home to an extremely important group of streets, stone façades and Little spots that you will never forget.
Two sister cities, two ancient cities. Cities where the strolling is almost compulsory for travellers. Unique spots that will bring your attention to Spain's most Renaissance past.
For more information contact us: [email protected]