Iberhunting is ready to receive the Christmas time so we are going to do a draw for a Female Aoudad Sheep hunting program.
We encourage you to participate in this fun draw: Look for our Christmas tree.
What can you win?
Among all participants, we will draw a raffle for a Female Aoudad sheep hunting program.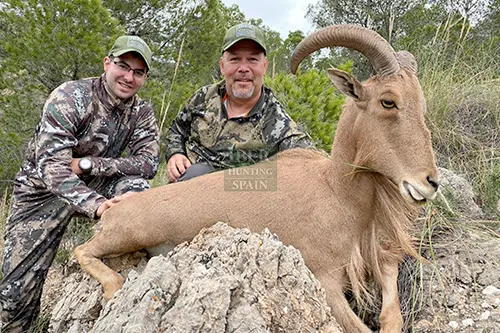 The prize includes:
1 Female aoudad sheep.
2 Hunting days in Spain.
3 nights full board accommodation.
Transfer from/to Alicante airport
Transport during the hunt.
Organization of the hunt.
License and insurance.
Hunting guide.
The prize doesn't include:
Flight tickets.
Alcoholic drinks and other drinks are out of the meals
Extra hunting day: 375€
Tips.
Taxidermy and shipping costs.
What does the Christmas draw consist of?
It is very easy, we have hidden a Christmas tree on our website (www.iberhunting.com) from Monday 6th December to Sunday 2nd January and you have to find our Christmas tree.
What do you need to do?
Find this Christmas tree! For this, we give you a few clues about the places where it will be the Christmas tree because we will change it every week.
December 6th to 12th: The Christmas tree is hide the hunting program of the biggest Spanish Ibex that you will find in the heart of the Iberian Peninsula.
December 13th to 19th: This week, look for the Christmas tree that is hiding in a European country where you will get frozen, will find a lot of snow and it's near the Arctic Circle.
December 20th to 26th: Find the Christmas tree in a Spanish hunting program, in which you can hunt the four Spanish ibex.
December 27th to January 2nd: Look for the christmas tree that is hiding in a European special program, where you can visit and hunt in different countries around Europe.
What about if you find it?
Once you find the Christmas tree, click on it and you will be redirected to a form and fill in with your personal data to participate in this draw. Only you need to find the tree once, you don't have to find it every week.
Stay tuned, because on Wednesday 5th the winner will be announced through our social networks and the Iberhunting website!!
*Requirements to participate
All participants need to be over 18 years of age to participate, free of charge and voluntarily, and must actively participate according to the mechanics provided in these bases.