This is the story of an impressive fallow deer. A very special hunt since our friend had already obtained the 4 Spanish Ibex and decided that he wanted to get the other Spanish game species.
During breakfast, the forest ranger began to tell us stories about a very large fallow deer that was limping due to an affected leg after the rut season. This fallow deer was a gold medal that they had not seen for a long time. So all our thoughts and dreams were focused on this magnificent animal.
Coincidence or not, a few minutes after starting the hunt we saw an impressive fallow deer behind some rocks. And from afar, we could see that it was our famous fallow deer, we couldn't believe it. We decided to get closer to shoot, but as we got closer all the animals looked at us. So we had to wait a while since when the fallow deer looks at you from the front you cannot assess the size of the trophy. And after a few long and intense minutes the fallow deer turned their heads, and before being able to shoot, the animals fled and it was impossible to shoot safely.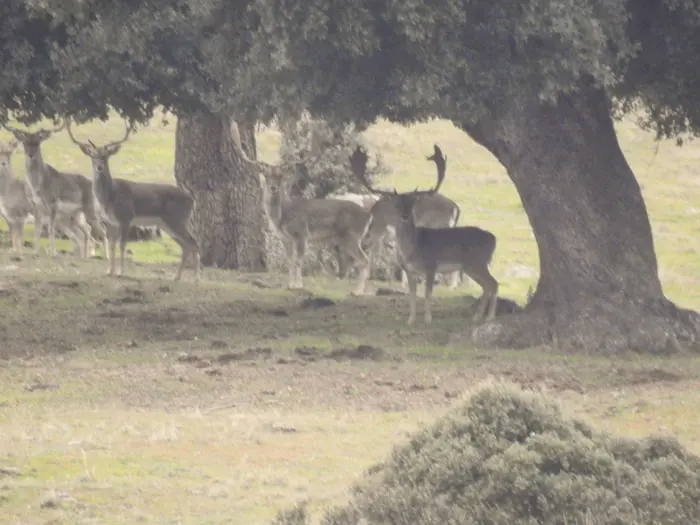 The hope of finding the fallow deer
We spent the whole day trying to find this fallow deer again but it was impossible, so the spirits fell down. The hunting day ended and we could only comment on the great opportunity we had had to get this great fallow deer. Although we never lost hope of being able to see him again the next morning.
So it was. The next morning, behind some dense bushes and without seeing the antlers, we saw an animal that walked strangely, limping. So we ran out so that the animal would run in the direction of the opposite slope.
Already in position, the fallow deer continued to run uphill and after emitting a small sound imitating the snoring of the animal in heat, the great male stopped for a moment. This was our moment. So our friend took the opportunity to make an accurate shot and get one of the largest fallow deer trophies in Spain. Congratulations Curtis!