I've always been a man who loves mountain hunting, the harder the better.
But Africa was not my thing. I was unwilling to hunt in Africa at such a young age. This trip was something I had planned for the future. However, I was mistaken. I had paid too much attention to other people's comments.
One of the most thrilling hunts
We left the camp for the avocado and macadamia crops, which were about 40 minutes away. I had an idea about what bushbuck hunting was like, but the reality exceeded my expectations. With lamps in our hands, we went to look for this amazing and evasive animal.
This hunt is carried out between the tree lines and uncultivated fields between the crops and the thick forest. All of this without any fence or defense for us.
We started to walk on a hill and between the avocado trees, we saw the first specimens, females and some smalls. The night fauna of this area left its secret places to look for food. We saw many porcupines, different species of felines, jackals, females and small bushpigs, and the best of all, bushbucks.
The level of the shoot was quite difficult, since, as the trees were very dense and loaded with fruit, the branches of the trees fell in such a way that they blocked a lot of vision.
In this way, we changed our strategy and headed for the areas between the crops and the dense forest and scrubs. After a long search, dismissing small specimens, in the distance we saw a strange bushbuck with long, strange horns. Due to the distance and the fact that it was difficult to see at night, the assessment was not as easy as in broad daylight. Although we were far away, we decided to go after him. We had to try.
The bushbuck was slowly heading towards the forest. We only had a few seconds. At 180m we decided it was now or never. The stalk was very precise and that is how we were able to get hold of this elusive animal, on a night that cannot be described in words.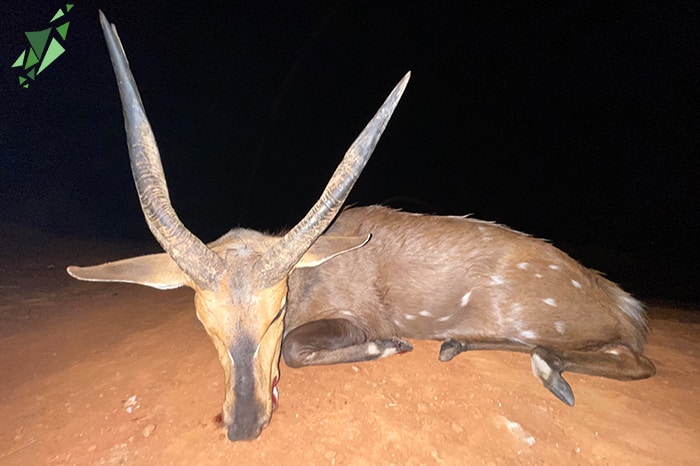 In my humble opinion, for all the hunters who can read these lines, if you ever go to Africa to enjoy and hunt, mark the name of the Bushbuck hunting, since for me it has been one of the best hunting experiences of my life.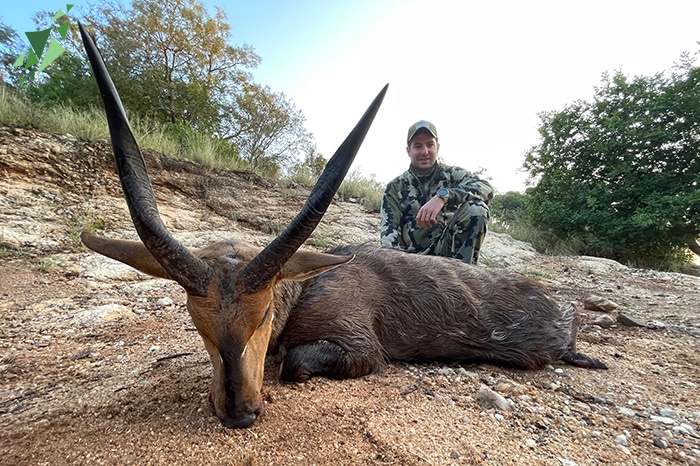 Sergio