We start two new international hunting trips in South Africa and Zambia. 45 Days of safari with different clients who travel with Iberhunting. The first stop will be Limpopo, in South Africa, to accompany our friends on this adventure. As CEO of Iberhunting, I will make sure that the hunts are a success and that all health and safety controls are complied with. My journey begins in Madrid stopping over in Dubai. Remember that in order to travel at this time you must carry a Negative PCR to pass all the controls.
In addition, to avoid any surprise when checking in your luggage and hunting weapons with any airline, I advise you to verify the cost of carrying the weapon. But also, check the rates for excess baggage. For example, Emirates in economy class excess baggage costs 25 euros for every kilo over the limit. And if you did not know, weapons and ammunition are billed in the same way, by kilos, so be very clear about the extra kilos you can carry. This is the advice of someone who, due to the rush and lack of time, had to pay 825 euros extra. ?
Other recommendations for international hunting trips
Most of the time I fly directly from Spain to South Africa, but this time I made a stopover in Dubai. In addition, I was 9 hours waiting at Dubai International Airport without being able to leave due to COVID restrictions. In other circumstances, you can go out and take advantage of that time to take a tour of Dubai, but this time I had to wait inside the airport.
On the other hand, it is highly recommended to have a loyalty card from any airline. This card allows you to spend a few hours in the VIP lounges of the airports. In the case of not having this card, you can obtain a Priority Pass card in most Banks or Savings Banks if you have a Platinum Visa. This Priority card also allows you to access most of the VIP lounges in airports around the world. So ask your bank if you have this possibility.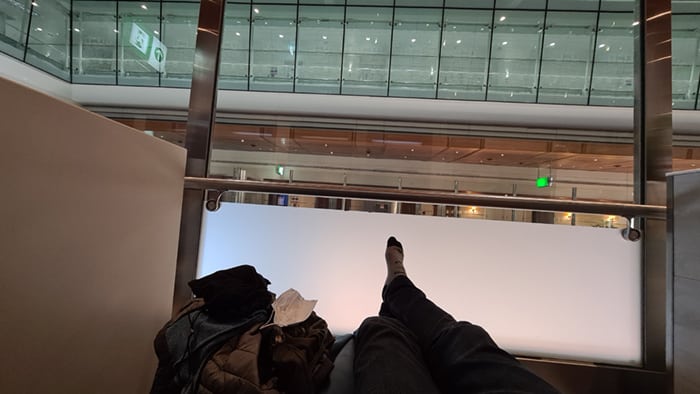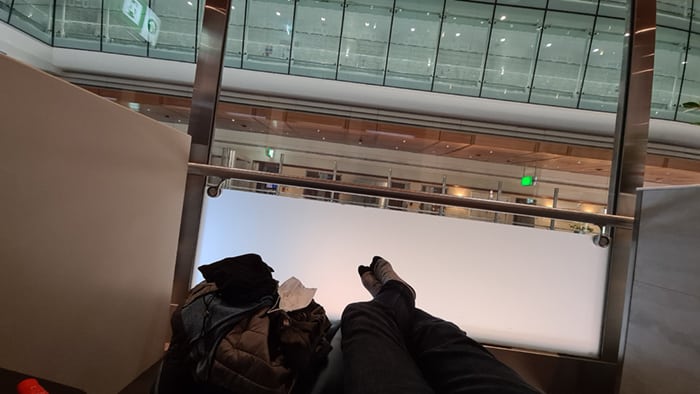 Another very important point that I would like to highlight is that if you are going to travel many hours by plane, I advise you to reserve your seat at the emergency exit. If you have this possibility, in these seats you have more space as you can see in the photos.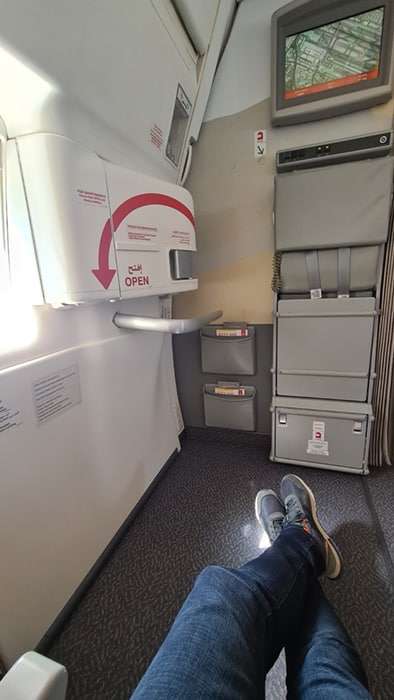 Flying with a hunting rifle
The airlines that are most used to traveling with hunting weapons are Lufthansa, Emirates, Turkish Airline, and Iberia. Of course, as I have already told you very carefully with the cost of excess baggage, either for the rifle, the ammunition, or the luggage.
If you travel with a hunting rifle, I advise you to avoid the airports of Amsterdam, Paris, and London as it is possible that your hunting weapon will not arrive on time. In this sense, it should also be noted how important it is to have good travel insurance as it is to reserve international hunting trips anywhere in the world with guarantees. Trust only Official Travel Agencies and International Outfitters where they also guide you in all the preparation of your hunting adventure. Because sometimes I do not understand hunters that I accompany and who have spent a lot of money on a hunting trip, but they do not carry a good rifle, they save on the quality of the ammunition and the scopes, and they skimp on the equipment. And it is that in the kit you never have to skimp. It is very important to carry a good rifle and ammunition, as well as to wear quality clothing. I have met many people who have not enjoyed their trip simply because they were not wearing the right clothes. 
At Iberhunting we advise you down to the last detail. For example, if you are going to hunt the Tur, Dall Sheep, Snow Sheep in Alaska, Kamchatka, etc. It is advisable to carry out insurance with helicopter rescues in the high mountains. There are several insurance companies that usually do. In these hunts, if anything happens to you in the high mountains, break an ankle for example, without this type of insurance we are talking that you will pay thousands of dollars for the ransom.
At Iberhunting we help and guide you from the moment you book your hunt. Feel free to book your new hunting destination now with us.
See you in South Africa! 
Antonio Teruel, Iberhunting