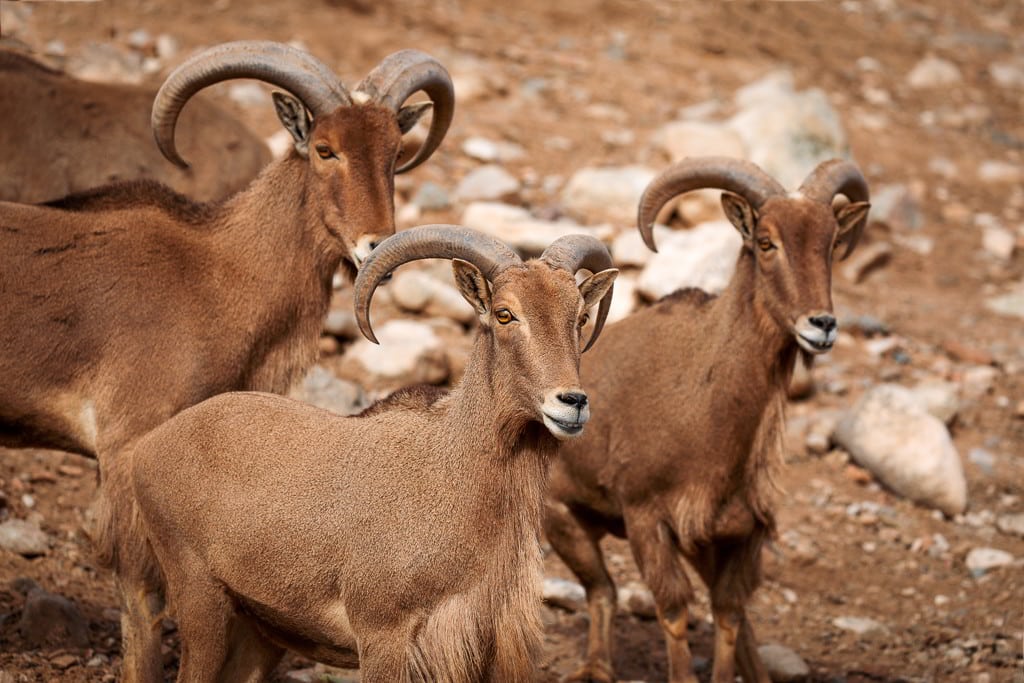 The Aoudad Sheep is a bovine animal of the Caprid family, native to the rocky areas of the Sahara and Western North Africa. The names arruí and aoudad, as it is known in many European languages, come from the Berber language.
In our country, the Aoudad Sheep can be found in the Southeast mountains.
Aoudad Sheep has very short hair, except for its tail and the shaggy "beard" which covers its throat and front legs. It has a reddish or sandy brown colour, slightly lighter on the underbelly. Both males and females have horns. Those of the females are much smaller and slimmer. The horns of the males grow out in a triangular cross section, are very wide at the base, and grow backwards in a circular shape; the horn is perennial and continues growing throughout the entire life.
A mountain species, it manages perfectly on crags and cliffs located in a dry, semi-desert climate. They live in more or less numerous groups made up of mixed herds, consisting of males of all ages, females and their young. The females are in charge of guiding the group. These are animals which adapt perfectly to any type of terrain.
The hunting area is situated in the Región of Murcia, on the southeast of Spain. The closest airports are Murcia – San Javier (45 minutes) and Alicante airport (1h15 minutes).
Hunting and Vacation, a perfect destination
During this trip we offer the possibility to stay in a hotel or the privacy of a country house. The accommodation in the Hotel Parador de Turismo offers visitors the chance to embark on the journey through time, from the archaeological site located under the hotel and completely integrated into the building, to the magnificent designer facilities, indoor swimming pool and modern spa. And a charming small country house can be your accommodation during your stay if you are looking for privacity and relax. A swimming pool area with mountain views will be the perfect place to relax after your hunt.
Lorca is a beautiful city, declared a historic and artistic site in 1964. It is known as the 'Baroque city' thanks to the important Baroque monuments in its historic centre.
The sun shines for more than 3,000 hours per year and the Mediterranean sea is only 35 km away. This is a great destination if you like to travel with your family and to share your hunt with the family holidays.
The hunt will start early in the morning (7.00h). After breakfast, we will drive to the hunting area. With the aid of binoculars we will try to find the groups of Aoudad Sheep in this desert landscape; once our trophy is spotted, our stalking will begin the silent stalk until we reach a suitable shooting distance.
We can combine this program with Wild Boar hunting that we can find in the same area, or with Sierra Nevada Ibex and Mountain Red Stag, only one hour driving from here.
Airport: Murcia or Alicante Airport